| | | |
| --- | --- | --- |
| | № 202 (3352) | 21.12.2006 |
The Congress of enterprisers
The President casted anchors, the Public prosecutor counted bottles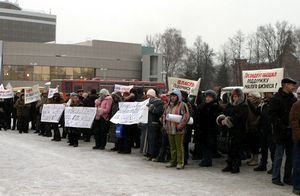 The Congress of enterprisers of Tatarstan took place on Wednesday. It showed that there is enough place for enterprises here: in the trade center "Korston", where 672 delegates met, and on the street, where another 400 entrepreneurs protested against ousting them from Kazan market. Enterprising is a well known business for our government officials too, judging by their presence: there were as many officials as enterprisers.
Who will fight the corruption? Pushkin?!
People stood in a queue for registration desks. The deputy minister of the Interior of the Republic for economical and tax violations felt himself in this crowd like a man on a diet surrounded by sweets.
The Congress began with sections sittings in the halls, called by the names of Russian classic writers. The organizers (the Business undertakings Development Association of the Republic of Tatarstan) showed their fine feeling of the style: a nervous and tangled subject "Business infrastructure development" was discussed in "Dostoyevsky" hall, an epical theme "Interaction of big and small business" was considered in "Tolstoy" hall, and a reconciling theme "Partnership of business, science and education" - in the "Chekhov" hall... As for a theme "Administrative barriers, corruption fighting", which is "everything of us", it was discussed in the hall called "Pushkin".
"Business and power together is an effective tandem"
After a dinner (the smorgasbord cost 450 Ruble) Mintimer Shaymiyev and other VIPs came in. "By your instruction!" – the vice-speaker of the State Duma Oleg Morozov reported to the president dashingly. - "I obtained permission to be absent and flew here". All the others also wanted to get to the big hall, which had no name at all unfortunately. Well, may be it is not so bad, for Saltykov-Shedrin did not give his name to any hall. In this moment Mintimer Shaymiyev was stopped by a seaman, who suddenly screamed out:
"Business and power together is an effective tandem! Like Internet and a home modem!"
He and other two guys, presenting a "KONTR" group stand, were clothed like revolutionary expropriators of the year 1917. It was a surprising way of advertising private security services... Yet the thesis about simple intimate relations between power and business is a strong application for the Russian national idea... Shaymiyev liked the seaman. And he decided to test him:
- Who controls the Black Sea Fleet now?
- We do! "KONTR" is there already! - it was hard to put the "seaman" off of his advertisement course.
"It turns out, Tatarstan has not only rivers, but a sea too", - a forced smile showed on a face of the Deputy Economic Development and Trade Minister of Russia Andrey Sharonov. It seemed that he was not able to wonder at any attainments of Tatarstan, even the geopolitical ones. Kazan was the fourth city of the Republic he visited that day, he has already been to Naberezhnye Chelny, Yelabuga and Nizhnekamsk.
"A public prosecutor is always at work"
All Ministry members were present at the Congress all day, the head of the Ministry of Housing and Building Marat Khusnullin only was in Moscow. He presented achievements of Tatarstan in building sphere and reforming of housing and utilities infrastructure. The government members took their places in the first rows like the dearest guests. The head of the Chamber of Commerce and Industry of Tatarstan Alexander Tarkayev started the sitting with the following statistics:
- According to the All-Russian Public Opinion Research Center, enterprisers appraised that they pay to official structures about 8,4% of the annual turnover, and in 2006 this sum was about 9,6%.
So the officials become more expensive every year. This is the first milestone on the way of consolidation of power and business.
- The number of small enterprises increased, - the general director of the Business undertakings Development Association Gulnara Sergeyeva informed us. - Their part in the government business grows: There were just 31 percent in 2003, and in first ten months of 2006 it makes 41 percent.
That is the second milestone: The part of the small enterprises in the government business corresponds with the expenses of intercourse with officials.
However the head of the regional department of the small and middle enterprises organization "OPORA of Russia" ("Buttress of Russia") Pavel Sigal dared to contend with statistics: "We have heard about the growth of small enterprises number. Yet the number of people working there does not change since 2004! The enterprisers organize smaller firms to pay fewer taxes".
The theoretical speech of Andrey Sharonov was interrupted by Mintimer Shaymiyev: "Why do we not regulate connection to electric power and gas supply on federal principles? All businessmen complain about it!.." The hall became quiet gaspingly. Every enterpriser in Tatarstan knows: "Tatenergo" controls energy supply in Tatarstan and not the Federation. Does not the President know about it?..
The office of Public Prosecutors knows everything, Kafil Amirov showed it. He reported about 78 criminal cases, instituted against some people, who outraged against businessmen rights. The end of his speech was also menacing:
- Speaking here I was so agitated, that I became thirsty. Yet there was no water on the tribune. Yet 50 bottles will be written off then!
"A public prosecutor is always at work" – Mr. Tarkayev commented.
Mintimer Shaymiyev gave every enterpriser an "anchor" at the end. A group of competitive undertakings of one branch, which was called "clusters centre", is now called an "anchor" till another more interesting name is invented.
- Small business is grouping around Kogogine, - the President said, - and now around Busygin too (Nizhnekamskneftekhim. - M.Y.) There will be an "anchor" for you, Shafgat Fachrasovich (Takhautdinov, Tatneft. - M.Y.) Mr. Alekhin (Kazanorgsintez. - M.Y.), you`ll be an "anchor" too...
For not to leave "Pushkin" alone in struggling with corruption, Shaymiyev dictated a number 567-88-68, and offered to call it "anonymously if you like". It is a number of the head of the presidential anticorruption department Shamil Davletgaleyev.
Marina YUDKEVICH.